(español está al final de la página)
Hi Food Bankers!
It's been one month since you approved the first union contract for The San Francisco Marin Food Bank. Congratulations on establishing better working conditions, expanding healthcare coverage, securing raises for your colleagues, and electing your Shop Stewards. You may be asking, "Okay, now what?"
You can be as involved as you like, we will still protect your rights. The union contract is like the foundation of a house, your stewards build the walls and roof, and you can stay safely inside.
Short-term, OPEIU & HR are working to establish new processes outlined in the contract. It's a large culture change and we hope The Food Bank will learn as we hold them accountable. We hear you about some recent issues, like the new cell phone policy which is unenforceable because it wasn't bargained with the union, or making sure eligible staff are paid their language differential – we will continue to pressure the Food Bank to reach resolution soon!
Long-term, the contract distributes the power more evenly among managers & employees. It establishes your benefits & protects you from bad behavior. OPEIU staff & your Shop Stewards will work closely together to make sure that the Food Bank is adhering to the contract, but it requires your participation too. Here's how you can be UNION S.T.R.O.N.G.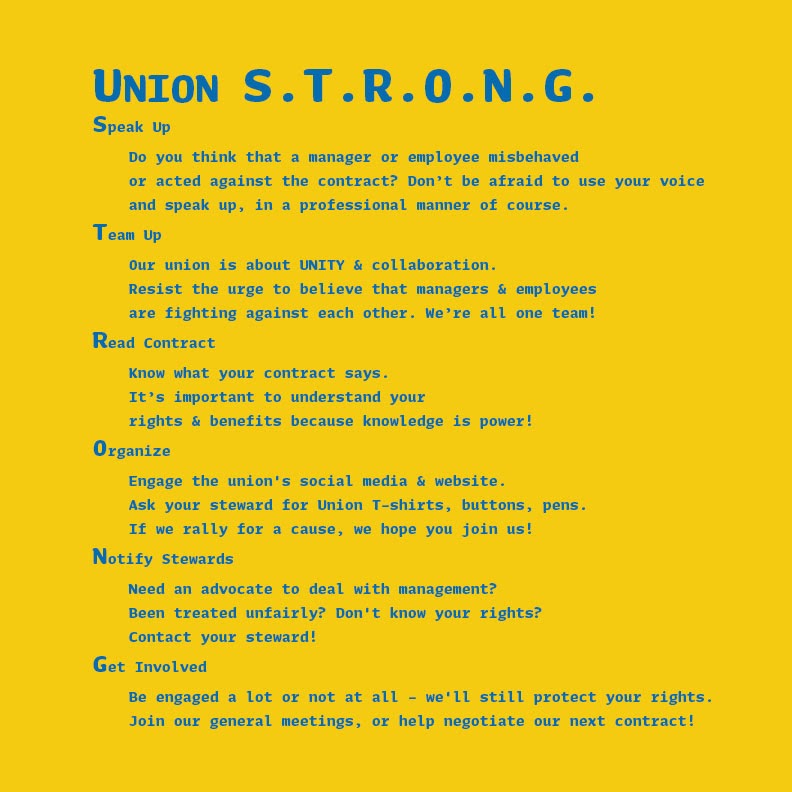 Speak Up Do you think that a manager or employee misbehaved or acted against the contract? Don't be afraid to use your voice and speak up, in a professional manner of course.
Team Up Our union is about UNITY & collaboration. Resist the urge to believe that managers & employees are fighting against each other. We're all one team!
Read Contract Know what your contract says. It's important to understand your rights & benefits because knowledge is power!
Organize Engage the union's social media & website. Ask your steward for Union T-shirts, buttons, pens. If we rally for a cause, we hope you join us!
Notify Stewards  Need an advocate to deal with management? Been treated unfairly? Don't know your rights? Contact your steward! info@sfmfoodbankunion.org
Get Involved Be engaged a lot or not at all – we'll still protect your rights. Join our general meetings, or help negotiate our next contract!
https://linktr.ee/foodbankunion
---
¡Hola, compañeros del banco de alimentos!
Ha pasado un mes desde que se aprobó el primer contrato sindical para el Banco de Alimentos San Francisco Marin. Felicitaciones por establecer mejores condiciones de trabajo, expandir la cobertura médica, asegurar aumentos para sus colegas y elegir a sus delegados sindicales. Puede que se pregunte: "Bien, ¿ahora qué?"
Puede participar tanto como desee, aún así protegeremos sus derechos. El contrato sindical es como la fundación de una casa, sus delegados sindicales construyen las paredes y el techo, y usted puede permanecer seguro por dentro.
A corto plazo, OPEIU & HR [Recursos Humanos] están trabajando para establecer nuevos procesos descritos en el contrato. Es un gran cambio de cultura y esperamos que el Banco de Alimentos aprenda a medida que los hacemos responsables. Los escuchamos sobre algunos problemas recientes, como la nueva procedimientos de teléfonos celulares que no pueden reforzar porque no se negoció con el sindicato, o asegurarse de que el personal elegible reciba su diferencia de idioma; continuaremos presionando al Banco de Alimentos para que llegue a una resolución pronto!
A largo plazo, el contrato distribuye el poder de manera más uniforme entre gerentes y empleados. Establece sus beneficios y lo protege del mal comportamiento. El personal de OPEIU y sus delegados sindicales trabajarán en colaboración para asegurarse de que el banco de alimentos se adhiera al contrato, pero también requiere su participación. Así es como puede ser una UNION S.T.R.O.N.G. [FUERTE]
Speak Up [Diga lo que piensa] ¿Cree que un gerente o empleado se portó mal o actuó en contra del contrato? No tenga miedo de usar su voz y hablar, de una manera profesional por supuesto.
Team Up [En equipo] Nuestra unión se trata de UNIDAD y colaboración. Resista la tentación de creer que los gerentes y los empleados luchan entre sí. ¡Somos todos un equipo!
Read Contract [Lea el contrato] Sepa lo que dice su contrato. ¡Es importante comprender sus derechos y beneficios porque el conocimiento es poder!
Organize [Organizar] Involucrar las redes sociales y el sitio web del sindicato. Pregúntele a su delegado sindical por camisetas, botones y bolígrafos del sindicato. Si nos unimos a una causa, ¡esperamos que se una con nosotros!
Notify Stewards [Notifique a delegados sindicales] ¿Necesita un defensor para atender una junta con un gerente? ¿Ha sido tratado injustamente? ¿No conoces tus derechos? ¡Póngase en contacto con su delegado! info@sfmfoodbankunion.org
Get Involved [Involucrarse] Participe mucho o no participe en absoluto, aún protegeremos sus derechos. ¡Acompáñenos en nuestras reuniones generales o ayude a negociar nuestro próximo contrato!